Fitness Goal
Improve on nutrition and fitness
I enjoy using Walk Tracker Pro and RunKeeper on my iPhone
I keep a "running" spreadsheet of all of my days of exercise.
Getting & Staying Motivated to Exercise
How to Get Motivated to Exercise When You're Off Track
Fitness Tips for staying motivated MayoClinic
How to Get Motivated to Exercise
---
Fitness, Nutrition and Exercise Calculators

Calculate Your BMI - Standard BMI Calculator

For years I took to the streets and trails and ran. The pressure of constant pounding does take its toll so I started with a treadmill but still did not like the pounding. I bought a Nordick Track and literally wore it out. I like working out on an elliptical machine. I do vary speed and intensity as I feel interval training really builds you up.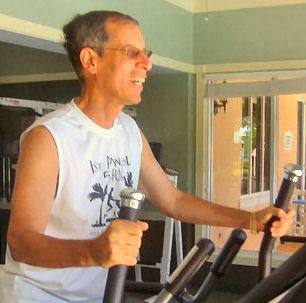 Elliptical Training
Gym Smarts: Cardio (Elliptical) - Watch WebMD Video
---
I suggest getting a series of upbeat playlists for your nanos et al. while exercising. Here is main Workout playlist when I am doing a fast & furious bit on the elliptical: Let's Get This Party Started, Born to Run, Flashdance, Gonna Fly Now, Winner Takes it All, Stayin Alive, Let's Get Physical, We Are The Champions, I Believe I Can Fly, Born to Be Wild, Eye of the Tiger, Chariots of Fire, Pipeline, Wipeout, Take Breath Away

"Eating properly is great. I mean you cut the fat down, cut the cholesterol out, but still you got to get your rest and you got to have some form of exercise." Mike Ditka
"Walking is the best possible exercise. Habituate yourself to walk very far." Thomas Jefferson
"Exercise: you don't have time not to."
"Those who think they have not time for bodily exercise will sooner or later have to find time for illness." Edward Stanley