QR Code Scavenger Hunts
The technical term for a scavenger hunt with
QR codes is a Scan-venger hunt.
How about a Geocaching QR Scan-venger Hunt!
How to set up a QR Code Treasure Hunt
QR Code Quest Scavenger Hunt- Part Deux! | The Daring Librarian
Qube.ly Lets you Geo-track your QR Codes
QR Scavenger Hunt -Ancient Structures
---
QR Codes in the Classroom and Library
The Adventures of Library Girl: From Tech Trend to Teaching Tool: Taking the QR Code Plunge!
QR Codes as Assistive Technology | OT's with Apps
QR Stuff - QR Codes For Cell Phones And PDA's
---
QR Code Booktalk Project | Mr. Hart's Class Blog
---
QR CODES and their potential for the classroom by William King on Prezi
How to embed QR codes in to pictures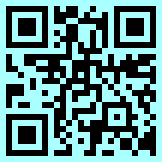 QR Code Generator - create QR codes for free GoQR
An Ask AL Answer: How to Read QR Codes?
Decode QR Codes Without a Camera:
Free Technology for Teachers
Interactive Posters? Kick it Up Using QR Codes
Presentation on QR Codes at TeachMeet Nashville
How-To-Guide: Recording Audio Files and Generating QR Codes | Langwitches Blog

QR Codes Are Dead, Toppled by Easy-to-Use Apps | DigitalNext: A Blog on Emerging Media and Technology - Advertising Age

Note to Shoppers

When I go shopping I take Red Laser with me. I scan the bar code and some stores will give me the best price for that product from other stores.

Global leader in mobile shopping and scanning - RedLaser