Teacher Notes
Have the students find the location of the Olympic Games on a map or globe and calculate the distance they would need to travel there. Research the countries that are participating the the games. Use different types of graphs to show the medal count.
How to Rank Medal Counts in the Olympics?
---
Canadian Olympic School Program - Programme Olympique Canadien D'École
---
Olympic Theme - Activities - Coloring Pages etc.
Maths Activities for the Olympics -nrich
Olympics-Sports Crafts and Coloring Pages - DLTK
Olympics Theme Unit - abcTeach
Olympics Activities, Worksheets, Printables, and Lesson Plans Theme Unit
Olympics Coloring Pages – Activity Village UK
Search for olympics teaching resources - Share My Lesson
The Summer Olympics - Match Upper and Lower Case Letters
The Summer Olympic Games - Put Words in Alphabetical Order
The Summer Olympic Games - Spell Words For Olympic Events
The Winter Olympics
Winter Olympics Through The Years
Vancouver 2010: Education - Australian Winter Olympic Team
Catch Winter Olympic Fever - Class Internet Project
---
Science of the Olympic Winter Games
---
Winter Olympics: Sport & Science (Sports Nutrition, Physics & Biomechanics, Physiology & Psychology)
How Competitive Figure Skating Works
Olympic Dreams: A World That Plays Together...
"Citius, Altius, Fortius"
Swifter, Higher, Stronger
---
The Olympic Oath

"In the name of all competitors, I promise that we shall take part in these Olympic Games, respecting and abiding by the rules that govern them, in the true spirit of sportsmanship, for the glory of sport and the honour of our teams." And so the games begin.

"The most important thing in the Olympic Games is not to win but to take part, just as the most important thing in life is not the triumph, but the struggle. The essential thing is not to have conquered, but to have fought well." Olympic Creed
---
Official Website of the Olympic Games
---
Best Books for Teaching About the Olympic Games
---
International Olympic Committee
An Olympic Games Primer (AAU-LA)
Social Integration Adds a New Twist to Olympians' Stories
---
Olympics TeacherVision Lessons
Olympic Island Lesson plans for key stage 2 Teaching Expertise
---
Olympic Rings Problem
Research Starters the Olympics
(Scholastic)
United States Olympic Committee
Modern Olympics
Ancient Olympic Games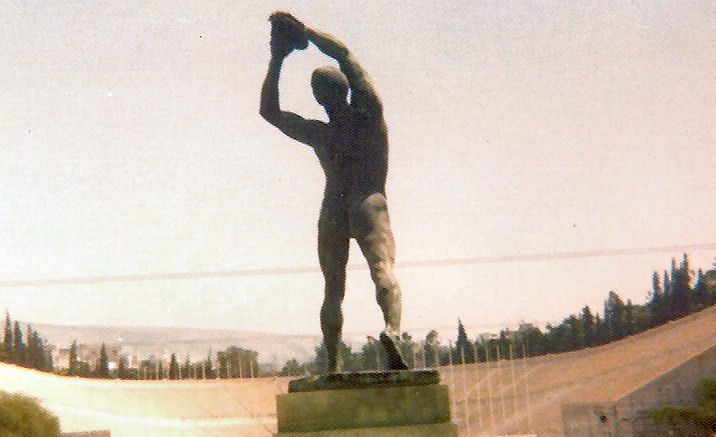 Olympic Stadium 1896
Athens, Greece
Photographs by Cybrary Man
Teacher Notes
Organize a field day with an Olympic Theme. Instead of the shotput do a yarn ball toss. For gymnastics you can use a balance bean and have students balance a beanbag on their head and cross the beam without having the beanbag fall.