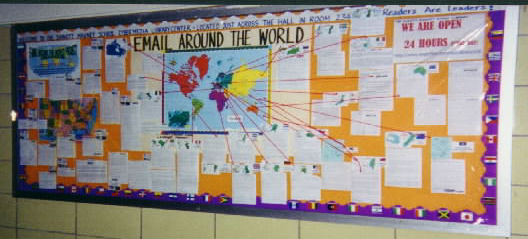 Email Around The World Project
---
U.S. Dept. of State: Background Notes
World Maps Political, Physical, Satellite, Africa, Asia, Europe
World Atlas: Maps and Geography of the World
Google World Wonders Project Arts & Culture
Explore Stories from Around the World
---
Capitals of Every Independent Country
ABCya! | Capital Toss: Capital Cities
Flag Counter Ľ add our free counter to your website.
Flags by Colours - proportional piecharts
---
All National Anthems: national anthems from around the globe
---
Best Books for Teaching About Countries of the World
7 Wonders Panoramas - The New 7 Wonders -Travel Great Wall, Taj Mahal, Machu Picchu - 360 degree Panoramas
---
Embassy-WorldWide - List of all Embassies and Consulates
---
Cyber Nations, an online nation simulation game
---
Countries in which Cybrary Manís Educational Web Sites have been viewed:
AFGHANISTAN, ALBANIA, ALGERIA, AMERICAN SAMOA, ANGOLA ANTIGUA AND BARBUDA, ARGENTINA, ARMENIA, ARUBA, AZERBAIJAN, AUSTRALIA, AUSTRIA, BAHAMAS, BAHRAIN, BANGLADESH, BARBADOS, BELARUS, BELGIUM, BELIZE, BERMUDA, BHUTAN, BOLIVIA, BOSNIA & HERZEGOVINA, BOTSWANA, BRAZIL, BRUNEI, BULGARIA, BURUNDI, CAMBODIA, CAMEROON, CANADA, CANARY ISLANDS, CAYMAN ISLANDS, CHILE, CHINA, COLOMBIA, CONGO, COOK ISLANDS, COSTA RICA, CROATIA, CYPRUS, CZECH REPUBLIC, DENMARK, DOMINICAN REPUBLIC, ECUADOR, EGYPT, EL SALVADOR, ESTONIA, ETHIOPIA, FIJI, FAROE ISLANDS, FINLAND, FRANCE, FRENCH GUIANA, GEORGIA, GERMANY, GHANA GIBRALTAR, GREECE, GRENADA, GUAM, GUADELOUPE, GUATEMALA, GUYANA, HAITI, HONDURAS, HUNGARY, ICELAND, INDIA, INDONESIA, IRAN, IRAQ, IRELAND, ISRAEL, ITALY, IVORY COAST, JAMAICA, JAPAN, JORDAN, KAZAKHSTAN, KENYA, KYRGYZSTAN, KUWAIT, LAOS, LATVIA, LEBANON, LESOTHO, LIBYA, LITHUANIA, LUXEMBOURG, MACAU, MACEDONIA, MALAYSIA, MALDIVES, MALTA, MAURITANIA, MAURITIUS, MEXICO, MICRONESIA, MOLDOVA, MONGOLIA, MONTSERRAT, MOROCCO, MOZAMBIQUE, MYANMAR, NAMIBIA, NEPAL, NETHERLANDS, NETHERLANDS ANTILLES, NEW ZEALAND, NICARAGUA, NIGERIA, NORTHERN MARIANA ISLANDS, NORWAY, OMAN, PAKISTAN, PALESTINIAN AUTHORITY, PANAMA, PAPUA NEW GUINEA, PARAGUAY, PERU, PHILIPPINES, POLAND, PORTUGAL, PUERTO RICO, QATAR, ROMANIA, RUSSIA, RUSSIAN FEDERATION, RWANDA, SAINT LUCIA, SAUDI ARABIA, SENEGAL, SERBIA & MONTENEGRO, SEYCHELLES, SIERRA LEONE, SINGAPORE, SLOVAK REPUBLIC, SLOVAKIA, SLOVENIA, SOMALIA, SOUTH AFRICA, SOUTH KOREA, SPAIN, SRI LANKA, ST.KITTS & NEVIS, ST. VINCENT & GRENADINES, SOMALIA, SUDAN, SWEDEN, SWITZERLAND, SYRIA, TAIWAN, TANZANIA, THAILAND, TRINIDAD & TOBAGO, TUNISIA, TURKEY, TURKS & CAICOS, TUVALU, UGANDA UKRAINE, UNITED ARAB EMIRATES, UNITED KINGDOM, UNITED STATES, URUGUAY, UZBEKISTAN, VANATU, VENEZUELA, VIETNAM, VIRGIN ISLANDS (AM & BR), YEMEN, ZIMBABWE
Photographs and Art by Cybrary Man
---
Find search engines from across the world with Search Engine Colossus
---
Countries' Project - Make a travel brochure.
1. Your assignment is to become an expert on a country.
2. In a library session you will use the latest World Almanac or an encyclopedia to complete an information sheet on your country.
3. Using reference books and books on your country and the suggested websites on this project page you will get information to create a travel brochure for the country.

Be as creative as possible. You can include the flag and map of the country and facts that will entice people to visit this country.
---
Countries' Project - Make a map, flag and find information.
Materials: Construction paper sheets of all the colors in each flag of the country. Scissors, glue, tape or stapler, rulers and markers. Large blank construction paper for map. Magic markers and crayons. Information question sheet on each country (e.g.: population, area, neighbors, industries, etc.)
Students are told that they will be researching particular country. They first do a complete profile of the country. Then, in the next phase they are given their supplies and told to make the flag of the country and a map. They are also to provide ten interesting facts about that country in any format they choose (play, poem, pictures, etc.).
Passports
Online Passport Photo Creation
Education World: Passport to the World
Area & Country Studies
Countries of the World (Infoplease)
List of formerly used country names
City Information
Languages
Ethnologue: Languages of the World
My Foreign Language pages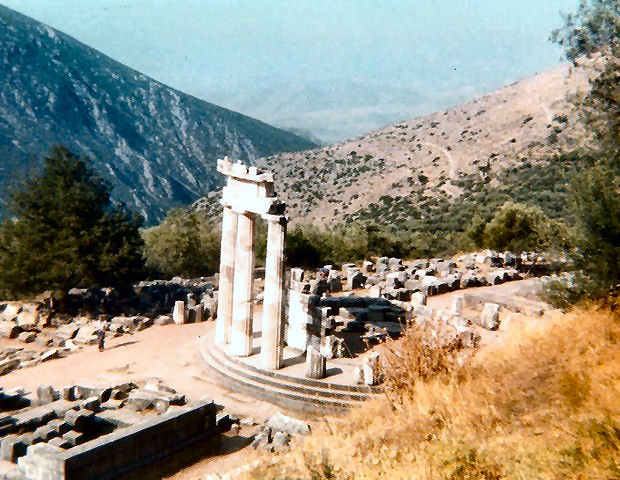 Delphi, Greece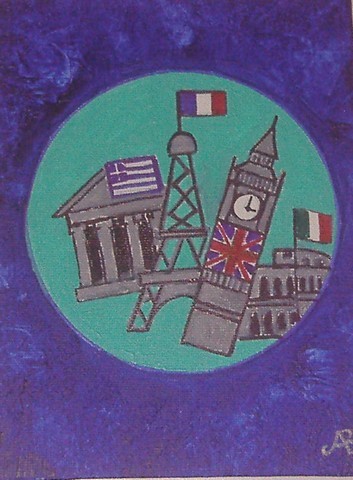 A Cybrary Man painting