Explore Your Environment
---
Directions: Spend 15 minutes outside or inside your home or school. Use your senses to answer these questions:

1. List everything you see.
2. Breathe in and describe what you smell.
3. Close your eyes and list the sounds that you hear. Where did they come from?
4. Touch something (not another person) close by and describe how it feels.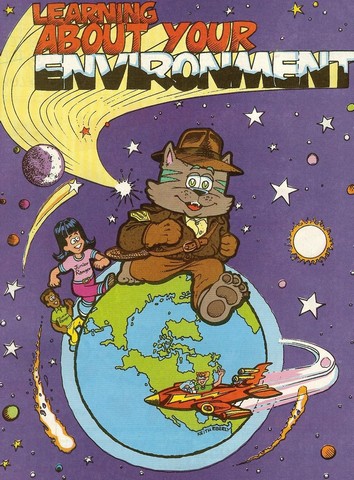 Learning About Your Environment
One of the booklets on the environment that I wrote for Culver Company, Inc.
Written by Cybrary Man
---
Cooperative Learning Activity – Environment

Earth Day which should be celebrated every day lends itself to several cooperative learning sessions.

After doing research on their topic they have to come up with a final product to illustrate what they have learned. Projects can include recyclable art, compost heap, explanation of the recycling symbols, layered rainforest bulletin board, house showing possible toxic products, etc.

You can divide your class into the following groups where the students will be experts in these areas:

Rainforest

Global Warming

The Toxic House

Reduce, Reuse, Recycle

Acid Precipitation

Going Green

Composting

Renewable Resources

Nonrenewable Resources

Environmental Careers

Composting Sites

How Composting Works (How Stuff Works)

Renewable and Nonrenewable Energy Sites

Green Technology & Alternative Energy

Global Warming - Climate Change

Center for Climate and Energy Solutions - C2ES

Greenhouse Effect - animated diagram
---
Acid Precipitation Sites
---
---
Environmental Careers
---
Endangered Species

Air Pollution and Weather